Choosing a word of the year is a tradition the MADE team looks forward to every year. While we still set annual goals together, selecting a word is an individual choice. That word is a reflection of what motivates each of our decisions and actions over the next year.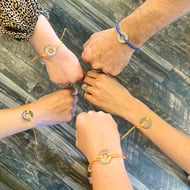 We're a close knit team, so it's unsurprising that a common thread can be found between all of our words. Speaking of threads, check out our bracelets! We each have a bracelet with our word engraved on a token for a little daily inspiration. The subtle but constant reminder has been a good way for keeping us accountable to ourselves and to each other.
Without further ado, here are the MADE 2022 Words of the Year:
Reset
Allen Reed
My word for 2022 is reset. Sometimes the more we try to fix something, the worse it gets. This is probably true with most men when we've offended our wives, but it's best I steer clear of that topic for today. When you think of things that need to be reset because they aren't functioning properly, you probably think of a slow internet router, a glitchy computer, or a tripped circuit breaker. For me, it's a personal reset.

What I am focusing on for 2022 is a reset of things that make me feel like I'm not performing up to par. Things like: improving work processes, channeling creativity, strengthening relationships, saying yes (or no) more and focusing on my health. I'm sure there's more, but, baby steps.

I wish I was created with a button I could push when I wanted to start over—I would probably push it several times a day. Resetting takes effort. You have to be self-aware, care enough to make adjustments and be willing to let go when things just aren't working. I think I'm ready though…if I could just find that button…

For some great tips on resetting your life, check out this article on WikiHow.
Connection
To be completely honest, I was not ready for 2022. I am usually excited for the fresh start and goal-setting that a new year brings. But instead, I found myself simply trying to catch up with what life had thrown at all of us over the past two years. I was feeling out of sorts and, frankly, disconnected.

When I stopped to think about it, I realized that was exactly the problem–disconnected. The pace at which I had been running for the past two years of leading our agency through a pandemic and looking out for our team and clients had left little room for the usual interactions that I always enjoyed so much. We all had to operate a little differently to get through the challenges and many chose to stay close to home or eliminate in-person interactions all together. If you alter your behaviors long enough, they start to become habit–and not always in a good way.

So, it's time to get back to the good habits. This year, I am focused on putting moments back in my schedule that create opportunities to connect. And, I am encouraging those around me to do the same.
Trust
Trust - firm belief in the reliability, truth, ability, or strength of someone or something.

"relations have to be built on trust"

Many words have been identified as the "foundation" of a relationship, but trust is the one that has come to resonate with me as I experience life and the relationships that come with it.

Last year, my word of the year was teamwork. I spent 2021 reminding myself (and sometimes being reminded by others) that I am part of a team in all aspects of my life. Shedding my default mode of "I can do it by myself!" was harder than I thought. But I trusted my teammates, and 2021 was better for it. However, teammates are no good without trust between all parties. And trusting each other means trusting yourself first. It's kind of like the whole, "you can't help someone else until you put on the oxygen mask first" metaphor.

So in 2022, I am committed to not only honoring my personal truths, but to also "trust the process." Trusting the process can mean letting go of some control, and listening to what you know within yourself. When I think about trust on a professional level, I think about how fortunate we are to have clients who trust MADE, and trust our process. Our clients invite us to become a trusted extension of their team, and I am so proud and grateful that we have companies across the nation who know that they can rely on our ability and expertise, and most importantly, know that they can trust us.
Pace
Whew! How was everyone's 2020 Part Deux? For me, it was like drinking from a firehose—and I know I'm not alone. I was eager to get back into the swing of things. So eager, that I bit off a little more than I could chew. I was spread way too thin. From volunteer obligations to meeting deadlines and expectations (personal and professional), I. Was. Burnt. Out.

After the holidays passed in a blur, I felt like I missed them. I wasn't fully present for anything I was participating in. In fact, I was starting to resent most of it—and I was mad at myself because I had allowed it to happen.

I needed to slow down and take a breath. I needed a change of pace.

I've decided 2022 is going to be my do-over. I will pare down my extracurriculars and only say yes to things I want to say yes to and turn some of the focus back on myself for a bit. I will manage expectations better and have to do the uncomfortable thing (for me) of asking for help when I need it.

This year is about knowing my own worth and knowing what's worth it. I'll find a manageable pace because the one I was keeping wasn't sustainable or healthy. I'm excited to see what this year brings by deciding to be present in my own life. So far, so good.

In the words of Ferris Bueller, "Life moves pretty fast. If you don't stop and look around once in a while, you could miss it."
Simplicity
November and December have always felt magical with an abundance of food, parties and goodwill in the community. Most years, I spend the holiday season busy planning, shopping and going out, but this year was different. My husband and I are now the proud parents of a baby girl.

As most parents understand, everything has changed (mostly for the better!). One of the more surprising changes is how much I enjoy all the small moments—rocking her in the middle of the night, seeing her smile when she first wakes up, watching her excitement when she's in her bouncy seat.

The big impact of these small actions has motivated me to seek more simplicity in 2022. I'm focusing on taking more small steps to accomplish big things. More action and less overthinking. It's been refreshing and rewarding implementing this mindset so far, so I'm looking forward to the year ahead.
Do you choose a word of the year? Share your word in our blog comments—we would love to hear from you!