After spending over a decade with a career in the non-profit world in a variety of capacities, including volunteer management, fundraising, event planning, and what is affectionately termed, "other duties as needed," I quickly learned that diversifying your modes of communication allows you to speak to more than one type of donor or volunteer. After all, these are real people who are willing to help solve real problems. They are your biggest allies, and making it easy for them to give their time and/or talents is a large part of your growth and success.
During my time working for Volunteers in Service to the Elderly (VISTE) in Lakeland, Florida, we were fortunate enough to be chosen as recipients of MADE's pro-bono Brandathon work. The MADE team redesigned an outdated brochure and turned it into an informative, useful work of art. In 2017, our Executive Creative Director, Allen Reed, stepped out of the box and created a beautiful mural for VISTE's building. Hundreds of volunteers and supporters of VISTE have since had their photos taken in front of it, and have shared the #EmbraceGiving hashtag on social media.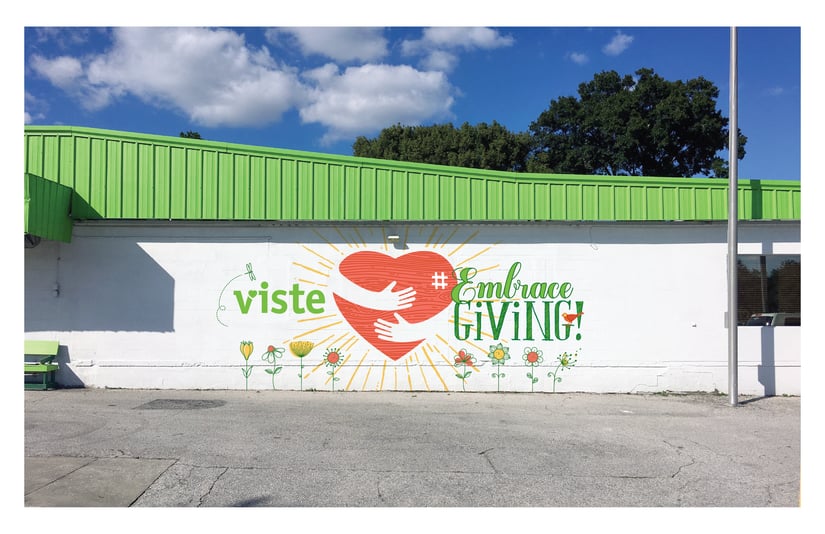 Non-profit budgets are tighter than ever, and requests for services increase each day. The good news is that charitable giving is on the rise. While many traditional fundraising techniques continue to be effective, online giving is outpacing these methods year after year. Because of these trends, now is the time to take a look at some of your most valuable marketing assets, and determine whether they need a "refresh."
Perhaps you will find that there are some new tools to consider adding to your toolbox this year. Your non-profit brand matters just as much as any for-profit business, and designating part of your budget toward marketing is key.
Let's explore three marketing essentials that non-profits should be considering implementing or refreshing this year:
1. Email Marketing
If your non-profit is not utilizing an email platform to recruit, retain, and inform donors and volunteers, the time is now. According to Winspire, donations via email are bigger than ever. Email is not only efficient, but also cost-effective. Even better: segment your donor base into subcategories to create content that is even more personal and relevant to their giving and volunteering. When you share your message in a compelling way that meets the reader where they are, the chances of boosting your revenue via email marketing increases 7-fold!
Email marketing gives you an opportunity to distribute information in a variety of ways:
Ask for donations toward your programs.

Explain how these donations will allow you to increase your capacity to serve. Use statistics, include a client's story that humanizes the need, and be sure to use your follow-up contribution acknowledgement to share a success story describing how the donors' help directly impacted those who you serve.

Share upcoming events and opportunities to volunteer. Remember volunteers don't come out in droves unless they know they are needed. Let them know! They want to help, but they need to be asked. Sometimes, volunteers also turn into donors! Keep volunteers engaged via email marketing, sharing success stories just as you do with your donors. Volunteers are equally as valuable as your donors, and in many instances, without them, your agency would not be able to function.
Let your donors, volunteers, clients, and supporters know that they are valued and appreciated with a monthly or quarterly e-newsletter. They want to know what is happening with your agency, and those they are helping. All of these constituents chose to give their support because they believe in your mission. Keep them engaged in a personal way. E-Newsletters are a great place to share engaging photos, success stories, current needs, or general information about trends affecting the population you serve. A heartfelt message from the board president, or agency director will add an even more special touch of gratitude.
2. Social Media Strategy
In today's environment, if it's not on social media, it's not happening. Your followers – whether primarily on Facebook, Instagram, LinkedIn, or any of the other platforms currently available – will look to your primary social media to receive information. Provide important details, including the basics:
What are your operating hours?
What's the date and time of that upcoming fundraising event and who is going?
Do you need funding for a special project?
Have volunteer opportunities?
How about a feel-good success story, or statistics on how donations of time, talent, and treasures will directly impact your programs?
Non-profits are ripe with storytelling opportunities. Humanizing your brand is integral to your marketing strategy, and social media is one of the greatest tools you have to harness the power of telling your agency's story.
If you don't have an ongoing social media presence, you will be overtaken by those agencies who do. Take time at the beginning of each fiscal year to examine and create a social media marketing strategy. With your plan in place, you can analyze outcomes, including your reach, engagement and audience, and be much better positioned in the future to plan your social media strategy in an even more impactful way using your measurements and agency guidelines.
3. Video
As an agency serving those in need, you are in prime territory for some dynamic storytelling. What better way to articulate the needs and successes of those you serve than video content featuring the work of your agency? According to a report from HubSpot Research, more than 50% of consumers want to see videos from brands … more than any other type of content. Additionally, 71% of people are watching more video online than they were more than a year ago – across all platforms.
Many non-profits serve clients through more than one program, and often the general public isn't aware of the actual impact they have, or how they better the community. If you've done a great job creating awareness for your brand, people will know what you do, but will they understand the full breadth and impact of your mission? Video is a great tool to make your story more interesting than simple text. According to HubSpot, viewers spend 100% more time on pages with videos on them.
Whether it's a short testimonial from a volunteer who is delivering a meal to a homebound senior, or a client themselves sharing the impact of the work of your agency, nothing does a better job than video as far as storytelling goes.
Start with a plan that creates a compelling and timeless story that you can show over and over again at speaking engagements, to your board, potential donors, incoming volunteers, on your website, and on social media. Take the necessary and intentional time to work out the details, including identifying your target audience, method of filming, and designated budget. Your budget does not have to be huge – iPhones are perfect for recording native content and short snippets to share on social media. There are hundreds of applications for using video!